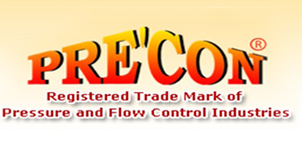 The Leader in TANK PRESSURE PROTECTION
Pressure & Flow Control Industries (PRE'CON), India is recognised globally for its excellent, Reliable and Certified Products. We specialize in tank protection devices and environmental products such as Breather Valve, Flame Arrestors, Breat her valve with Flame Arrester, Gauge Hatch, Free Vent , Emergency Vents and slot dipping devices.

PRE'CON is the only Indian manufacturer registered with Engineers India Ltd for Tank Pressure protection devices/Flame Arrester.

The first Indian Manufacturer having approval for their products.

One Stop Shop
PRE'CON of fers products for storage tanks for oil refinery/ terminal and depots, Petrochemical, Pharmaceuticals, Fertilizers, Flare systems, ETP/STP, Bio Gas plants, A Wide range of PRE'CON Flame Arrester, Breather valve, Emergency Vent, Gauge Hatch, Slot dipping device. Free Vent, Silica Gel Breather etc., are manufactured from our state-of-the-art manufacturing facility at Makarpura, Vadodara An ISO 9001 - 2015 certified organization, PRE"CON has systematized production systems to produce components of various specifications using precision manufacturing processes.

Customised Solutions
Every application demands a thorough investigation of operating parameters, Which helps in designing the correct vent size for excellent performance. Our Design engineering team provides Vent sizing as per API 2000 based on the process parameters & Project requirements for successful operation of PRE'CON products.

Easy Accessibility
All PRE'CON products are offered to the market through a direct marketing channel and, in some cases, distribution networks across India and in the international market.

Proven Product - For Highest Safety of Plants, Property and Human Life
All PRE'CON Breather valves, Emergency Vents are certified for vent capacity as per API 2000. All PRE'CON Flame Arrester are ATEX and CE Approved. PRE'CON Breather valve Combined with Flame Arrester ( Single Unit) are ATEX and CE Approved.

Besides these all PRE'CON products comes with PED/CE marking.