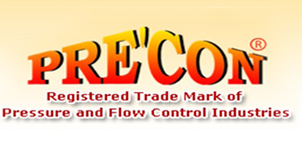 Offering Detonation Flame Arrester, Emergency Pressure Relief Valve, Vent Breather Valve , etc. !
"To Associate And Work Together For The Safety, Prosperity And Well Being Of Mankind." The Only Indian Manufacturer Of Tank Safety Products Compliance to The Requirement Of ATEX Directive as per ISO 16852 Certification

Pressure & Flow Control Industries is a 1975 establishment dedicated to provide safety equipment to many industries. As a reputed Exporter, Manufacturer and Supplier, we aim to surpass the expectations of our patrons by offering defect free range of products in time. Our product line comprises Flame Arrester,Vent Breather Valve, Detonation Flame Arrester, Breather Valve, Gauge Hatch, Combined Vent, Free Vent, Slot Dipping Devices, Tank Blanketing Regulator, Deflagration Flame Arrester and more is fabricated from premium quality materials/ components. These products are ATEX Directive 94/9/EC and 2014/34/EU certified and approved by CMRI and PESO. We take pride in being an ISO 9001:2008 certified enterprise.

With the aid of advance facilities, we have been able to increase the production capacity to a great extent. Further, our operations are backed by the experienced and skills of our diligent workforce. They carry out different processes in a well coordinated manner, under the supervision of experts. The company has developed reputation in international markets due to its commitment to quality in products. Around 50% of the total products produced are supplied in international markets, like United Arab Emirates, Indonesia, Malaysia, Philippines, Taiwan and United States. In India, many well known names, like Bharat Petroleum, ESSAR, Hindustan Petroleum, Indian Oil, ONGC and Reliance Industries Ltd, rely on Pressure & Flow Control Industries' safety equipment.

For us, client satisfaction is primary aim and so we emphasize on manufacturing best grades of breather valve with detonation flame arrester, deflagration flame arrester and emergency pressure relief valve that suffice their application requirements. The expectations of customers is one of the antecedent, which is emphasized by us. Herein, we create a standard according to what a customer predicts rather than the approach of following a normative standard. Throughout our presence in the industry, we have always reaped benefits from this approach because it has played the role of a cognitive anchor in the evaluation of client satisfaction. We are providing ATEX Certified and CMRI Certified flame arresters that are responsible for passing the gas through to stop a flame and hence do away with explosion or similar hazard. Through our avant-garde series of breather valve with detonation flame arrester, deflagration flame arrester and emergency pressure relief valve, we have achieved 100% customer satisfaction. To further augment it, we rely on our experience of dealing with clients and new developments in the industry.